The Sawmiller?s Guide To Troubleshooting is the one book to have when you?re having more than none. Sorry, I couldn?t help myself.

The Sawmiller?s Guide to Troubleshooting is your one stop source for just about anything you need to know about setting up, maintaining, and running a proper sawmill.

It covers such topics as:

? Sawmill troubleshooting tools
? Circular saw sharpening
? Saw mandrels
? Saw speeds and their relationship[p to feed rates
? Sawmill alignment
? Circular saw manufacturing
? Saw welding
? Saw selection
? Reducing saw kerf
? Winter sawing
? Saw hammering
? Comprehensive sawmill troubleshooting with complete check lists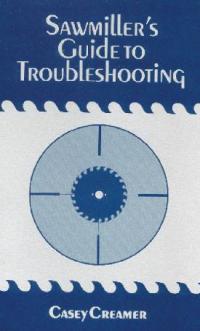 This 182 page book (now in its second printing) extensively covers the topic of sawmill troubleshooting and just about anything related to that field. If you could have only one book on the subject of sawmills and their operation, this is the one.

Whether you are an old hand at running a sawmill, or a rookie, or even just about to start setting one up, this book is a must have. No sawmill or sawmiller should be without at least one copy of the Sawmiller?s Guide to Troubleshooting, by Casey Creamer.

Whether you are the sawyer, filer, millwright, or mill manager, the Sawmiller?s guide to Troubleshooting, by Casey Creamer should be in your possession at all times.

The cost is just $25 per copy, plus $5 shipping. Click on the button below to purchase.